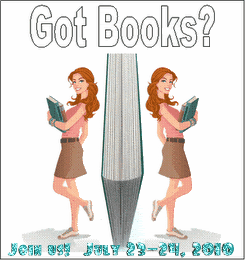 I'm participating in the
Got Books?
Event this weekend, and that means it's your chance to get some free books! Through Got Books? I've found a bunch of fun new blogs to follow, so in appreciation, yes, books. If you're in the U.S. or Canada, I'll happily send you the following two paperbacks if you're the randomly-drawn winner from my blog comments.
If you like romance and magic, these books are for you. And, bonus, I haven't read these, so I'll gladly read your reviews.
To enter, leave a comment with your e-mail address (to prevent spam, you can space it out like this: myname @ somewhere com) telling me who your favorite princess is. Link me to your blog, if you have one! I'll make a random draw at midnight Mountain time the 24th, and mail you the books the following weekend.
And I should note that I'm very, very busy right now with a summer publishing course, so I've pre-scheduled my post and might not be able to visit all of the awesome blogs participating in the Got Books Event--but if you visit, leave me a comment and a link so I can visit you as soon as I can (school's out in two weeks)!
Edited to add: I have hundreds of books to give away, so please check back in the future!