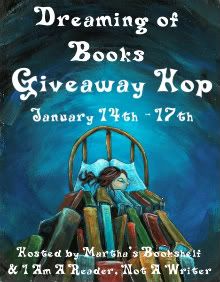 Wow! What an amazing weekend. Thank you again to
Martha's Bookshelf
and
I Am a Reader, Not a Writer
for hosting the blog hop and doing the tough job of organizing it all. I spent most of my weekend in bed with sniffles and chills, but every now and then, I peeked in to see what everyone's favorite scary stories were. Here's a roundup:
Steph of Book Junky mentioned The Legend of Sleepy Hollow as her scariest story pick, as did Indigo (who also liked "A Christmas Carol" and anything by Edgar Allen Poe), Rosa, Lora1967, Tina, Bella and Megan. Janelle gave "The Severed Hand" by Sir Arthur Conan Doyle a mention. Laura H. liked "The Gargoyle."

Nicole P. of Thebookbandit remembered a classic sleepover scare: Bloody Mary! MadamMarsee said that the Candy Man was her childhood fear. Maria (pronounced Mariah) thinks that her mom's haunted school house stories were the scariest. Karina's scariest story is "The Green Ribbon." Chloe picked "The Woman in the White Wedding Dress." jecca likes Scary Stories to Tell in the Dark.

pepsivanilla said that Blue is for Nightmares really creeped her out. MannaB picked Morpheus Road: The Light by D.J. MacHale.

Michelle said that "In a Dark Place by Roy Garton was one of the scariest I've read." Tressa avoids scary stories, but mentioned Phantom of the Opera and Nine Coaches Waiting. msdarcy said that the Harry Potter books were scary enough for her!

Katie, Taffy, and RhiReading voted for Poe's "The Tell-Tale Heart." sablelexi's pick was "The Mask of Red Death." Alyssa picked "Berenice."

Book Nerds remembered the heyday of R. L. Stine and Christopher Pike. BJ and Chi Kittie (who also liked The Shining) are R. L. Stine fans too. (Does anybody want to predict a return to that style of paranormal story in the future?) Lexie at The Book Bug named the demons in the Mortal Instruments series as creepiest. latishajean picked Shadow Hills as scariest.

aurora M. mentioned Tommyknockers and It (my eighth grade teacher used that for a read-aloud!). Jules at One Book Shy of a Full Shelf thought Christine was the scariest. debbie said that a Stephen King short story, "In," is the scariest. hense1kk voted for Desperation. BLHmistress and Meredith picked Cujo. throughthehaze, tetewa, Jolene Allcock, Sherry, Khyla and SiNn agreed with It. Shannon at Books Devoured named The Stand as her favorite (and it might be mine too, as I first read it when I was at home with a cold...) and Linda Henderson picked The Shining. Donna picked some Poe stories and Salem's Lot. ##Dawn##, missreener, and Carol M. all chose Pet Sematary. samantha35 voted for anything by Mr. King, and MommyWantstoRead mentioned a bunch of King favorites.

Debbie said that Intensity by Dean Koontz was her scariest read, and invited folks to check out a scary story on her blog. Connie Black mentioned Poltergeist. AEKZ2 gave her pick to Bently Little's University.

Ricki and Vivien liked The Devouring by Simon Holt. lkvoyer named one nobody else did: Let Me In by John Ajvide Lindqvist. ferretvamp14 said that Where the Wild Things Are is scary no matter how old you are.

Lexie of Poisoned Rationality picked "The Halloween Tree" by Rad Bradbury as a spooky story. brendajean said that "I couldn't sleep alone for a month after reading The Omen."

Charlie mentioned both Dracula and old, original versions of fairytales as gruesome reads; mbreakfield also went for Dracula. For more modern, but still classic, vampires, Julie S. names Interview with a Vampire as scary. Belle Découverte went with Grimm's fairy tales as perhaps not scary, but favorites. Asenath picked Frankenstein.

SusieBookworm brought up "The Croquet Player" by H.G. Wells.

Michelle L., Reading Between the Wines and CMS professed to not read such scary stories. Eek!
The scariest, scariest story I read in the last year is not a short one, but it still keeps me awake:
Riptide
by Douglas Preston and Lincoln Child. I'm not sure if I'm more scared by the death of a child at the beginning or the (I'm not going to give you a spoiler through adjectives) sword at the end. Oh boy. The scariest YA I read is
Living Hell
by Catherine Jinks; the idea of being inside a living spaceship was terrifying to me. I'm afraid to give someone nightmares with my scariest short story (really, an urban legend), so I'll give third or fourth scariest: any of the variations of drinking wine or spirits, and later finding that the cask was someone's coffin. Eeeeew!
I visited a random number generator and
Indigo
is the winner of
Nevermore
. I'll e-mail later this week for a mailing address. Congratulations!
If you didn't win, check back later this week for a different giveaway. Have a great week!